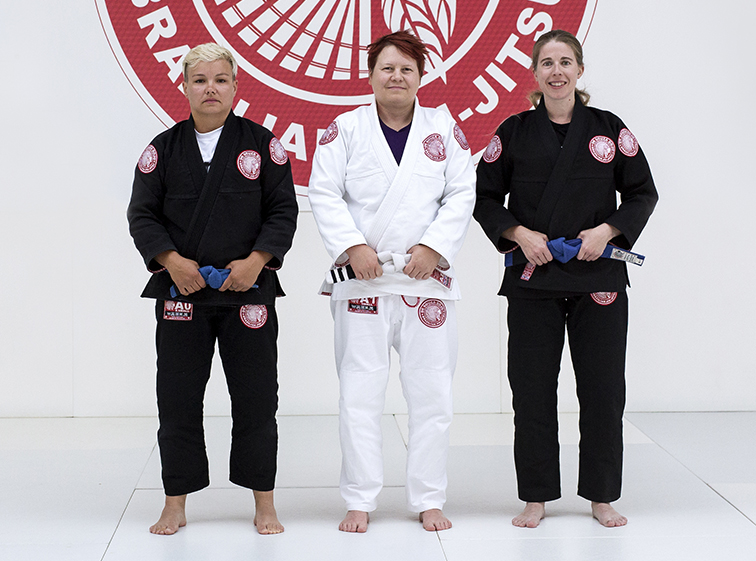 Introducing our ladies only Jiu-Jitsu classes, run by our talented purple belt Angelika Glapiak. Ladies, if you've ever wanted to experience Jiu-Jitsu but were a little overwhelmed about joining the mixed class, then this course is for you.
Our ladies only Jiu-Jitsu classes are designed specifically for women who are interested in learning the art of Jiu-Jitsu in a supportive and empowering environment. Led by our highly skilled purple belt instructor, Angelika Glapiak, these classes provide a unique opportunity to dive into the world of Jiu-Jitsu without feeling intimidated or out of place.
Join us every Wednesday for an exciting journey into Gi Brazilian Jiu-Jitsu. This introductory course will focus on teaching you the fundamental techniques, throws, and rules of BJJ. Whether you have no prior experience or are a complete beginner, this course is the perfect starting point to gain a thorough understanding of Brazilian Jiu-Jitsu before committing to further courses or membership.
Over the course of 6 weeks, you will receive comprehensive training and individual attention in our private ladies class. This dedicated class allows you to learn and progress at your own pace, surrounded by other like-minded women who share your passion for Jiu-Jitsu. And don't worry, even though you'll have your own exclusive class, you're always welcome to join in the mixed Gi classes at any time to challenge yourself even further.
In addition to unlimited training for 6 weeks, you will also have access to our mixed Gi classes on Mondays, Wednesdays, and Fridays from 7pm to 9pm. This gives you the opportunity to interact with and learn from a diverse group of practitioners, both male and female, creating a well-rounded Jiu-Jitsu experience.
Our expert instructors are dedicated to providing top-notch tuition, ensuring that you receive the best possible guidance and instruction throughout your Jiu-Jitsu journey. They are passionate about sharing their knowledge and expertise, and they will be there every step of the way to support and encourage your growth.
To get started, all you need is a Gi uniform, which includes a white Gi and belt. Not only does wearing a uniform create a sense of unity among our students, but it also represents your commitment to the art of Jiu-Jitsu. Additionally, your membership includes insurance coverage for your peace of mind.
Join our ladies only Jiu-Jitsu classes today and embark on a transformative journey that will empower you both physically and mentally. For only £200, you'll gain access to unparalleled training, expert guidance, and a welcoming community that will uplift and inspire you. Don't miss out on this incredible opportunity!
Summary
6 weeks unlimited training
Ladies only class Wednesdays 6pm – 7pm
Access to Gi mixed classes – Mondays, Wednesdays & Fridays
Expert tuition
Gi uniform (white gi & belt)
Insurance
Only £200